Delta Epsilon Tau Honor Society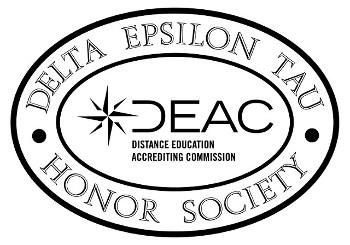 Delta Epsilon Tau Honor Society
Delta Epsilon Tau is the official national honor society for America's accredited distance learning institutions. Delta Epsilon Tau only places Chapters in those institutions recognized by the Distance Education Accrediting Commission. The purpose of the Society is to encourage and recognize superior student academic achievement, character and leadership. To recognize the academic achievements of students who study at a distance, the Distance Education Accrediting Commission in Washington, D.C. established the Delta Epsilon Tau International Honor Society.
Delta Epsilon Tau (DETHS) is the only Honor Society that brings honor and earned recognition to those individuals who have worked diligently to acquire new knowledge and skills from an accredited distance learning institution. It is the "Mark of Distinction" for an institution to be awarded a Chapter.
Viridis Graduate Institute Chapter: Alpha Gamma of Arizona 
Δ - Delta, the fourth letter of the Greek alpha­ bet, is symbolized by the triangle. In the case of our International Honor Society, Delta serves to join three groups - our students, our institutions, and the Distance Education Accrediting Commission.
Ε - Epsilon, the fifth letter and one of the first vowels used to create the Greek alphabet, stands for education and distinction. The "E" in Epsilon begins the Latin word "educo" or "educatum" and means to lead forth. Lo encourage mental, aesthetic, physi­cal and moral development, through instruc­tion for the business and duties of life.
Τ - Tau, the nineteenth letter of the Greek alphabet, means to instill good character. Accordingly, Tau brings recognition and praise for those who have worked valiantly and successfully in one or more fields of study.
STUDENT MEMBERSHIP PRIVILEGES AND HONORS
National Student Recognition
Reference Delta Epsilon Tau on all Future Resumes
Lifetime Membership (no annual dues)
Letters of Reference (upon request)
Delta Epsilon Tau Members receive Personalized Membership Certificates profiling the institution and Chapter. Each Certificate includes the Delta Epsilon Tau Gold Seal of Distinction, Congratulatory Letter, and DET Honor Cord.