EARTHING eNewsletter & Events
EARTHING eNewsletter Archives
Sign up for EARTHING and stay up on Viridis program offerings.
2022 Professional Development
Join us on August 22 for a free INFO SESSION about Ecological Psychology and our various programs.
ECOPSYCHOLOGY INFO SESSION
Topic: INFO SESSION
Time: August 22, 2022 12:00 PM Pacific Time (US and Canada)
VIA Zoom 
To Register for the INFO SESSION                                                                                                                                                                                                                                                                                                                                             
Resources
Viridis Graduate Institute supports the Statement on Voting Rights By Higher Education Organizations. 
Viridis Graduate School - its nature, curriculum, and energies are to encourage participation - psychological activism that involves us in what we want to evolve.
Viridis seeks to involve our educative ideas in evolving a just, flourishing, diverse and multiplicitous democratic society. While the focus is on the circulation of toxic voting laws, the narratives these kinds of laws sit on are interconnected supremacy narratives.
As an institute, as ecological beings - we are not innocent bystanders to happenings in our world. Democracy is not an iron-clad system of thought. It is an ecology of governance constituted by the people who participate in its care, maintenance, and its demise.
There is no such thing as a democracy without participation - meaning to take part, be responsive, be curious and concerned as to its workings. Participation in the legal right for all citizens in the democracy to vote and thus take responsibility for choosing lawmakers is not a question, argument, or debate.
Voting is the backbone of a democracy. Like any ecology, democracy requires examination, revisioning dangerous and outmoded narratives that no longer serve a diverse, multifaceted. and complex social and ecological fabric. Without examination and composting old ideas - it too can suffer collapse.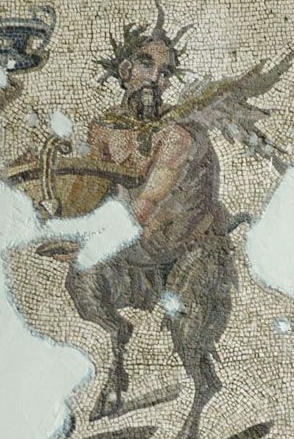 An Ecopsychological Exploration of Pan (demic)
The Covid-19 zoonotic virus is as ecological as it is psychological in its communal effect. It pertains to Pan, the god of wilderness and a source of psychic fear, which can attack, strike, and divide. We cannot always prevent or stop viral infection any more than psychic infection; both are afflictive. I hope to offer participants a few ecological and psychological tools for how to reconfigure the "frightener," the unseen but contagious panic into a grounded relationship with uncertainty and unknowns inherent in a shared world. Led by Lori Pye, VGI President.
[Image: Pan, courtesy of www.theoi.com]
A Conversation with Lori Pye (Interview with Nick Shore, New York)
Follow Us
Please consider following, commenting, and sharing our posts -- these actions are critical to seeding and cultivating a vibrant community with thought-provoking ecological psychology content!