Student Testimonials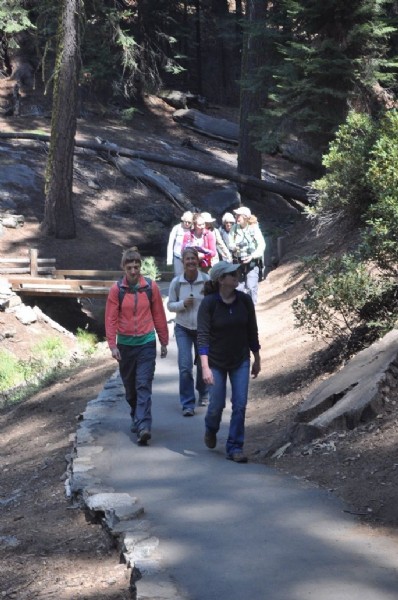 I have been through both Master of Arts program and now completing the Doctor of Arts with Viridis Graduate Institute. My ability to perceive the natural world that I walk through daily is a gift I once took for granted. Now, nature in its many forms is my partner in the continuing development of my psychology. Diving into psyche has connected me to a wealth of generational narratives and behaviors that have been unconscious and destructive. When you can name your pain through the study of ecology, depth psychology, mythology, philosophy, and anthropology, future possibilities spring open. Viridis' professors championed and hold us accountable for our narratives. They see our unique strengths. My education through Viridis, and especially with the wise counsel of Dr. Lori Pye, its founder, has awakened my thinking and actions in positive ways. There has been no better time in history than now to be a part of changing the course of civilization through dedication to the preservation of our earth and all species. We are the most destructive species to inhabit the earth. We are changing this story. Humankind needs more leaders to step forward who can use a transdisciplinary toolbox of Ecopsychological solutions. Few graduate programs can offer an on-line program as comprehensive and well rounded as what I have received from Viridis Graduate Institute. - Maria, Master of Arts and Doctor of Arts 2020
I came to Viridis with drawings, paintings, poetry and unanswered questions. They were answered and then some. I am so thankful for Viridis' curriculum, wise professors, wonderful classmates and the overall mentorship of this program. Not only will you learn ecology but you will explore the depth of the psyche within nature and the imagination. The 5 Ecopsychological principles have guided my processes and grounded them into practical application. I will always be grateful for my experience and I will forever be a part of this community. Thank you, Lori, Leslie, and Ann for your dedication and excellence. - Jennifer, Doctor of Arts 2020
Viridis Graduate Institute's doctoral program is a rich addition to advanced studies in the field of ecopsychology. The scope of study while remaining anchored in ecological realities and principles vastly broadens the terrain with its emphasis on depth psychology, mythology, cultural studies, and philosophy. Coupled with intense self-reflective practices, regular live online classes, and exceptional faculty, this program delivers a top-notch educational experience. In summary, this program will result in a new kind of ecopsychologist, one who knows much less than he/she did upon entrance into the program and hence has become immeasurably wiser. Deborah, Doctor of Arts Program 2017
Wanting to find deeper meaning in my life and work, I had been looking for an ecopsychological community with a heart for removing barriers of communication within and between the individual and the soul of the world. I found that through the Executive Program at Viridis I learned and practiced a profound, creative, and empathic way of seeing my interconnectedness with all of life. I also appreciated the live online video classroom because it too was a conscious effort to remove barriers of communication among the students and with the professor. Overall, the Executive course is a modern, relevant, and evolutionary program that has empowered me to change, grow, and lead with confidence.
Lynn, Doctor of Arts Program 2017
My experience as a doctoral student at Viridis has most definitely exceeded my expectations! As a distance learning institution, I truly appreciate the technological format Viridis uses. Given my current obligations, it is necessary for me to attend a doctoral program that can come to me. I attend regularly scheduled classes where I am able to meet face-to-face with my cohort and professors to have the interaction and deep discussions that the doctoral program material requires. I also appreciate the faculty. They facilitate their classes in a respectful manner and as a place where students are encouraged to share their thoughts, explore new ideas, and learn cooperatively.
Stephanie, Doctor of Arts Program Class of 2018
The ReWilding Residencies at National Parks are an invaluable part of the program. ReWildings integrate psychological exploration with the experiential learning of ecopsychology in different ecosystems, including our own. Meeting in person allowed my cohort to get to know each other on a personal level, setting the stage for us to form deep and lasting friendships and valuable professional connections. Overall, I have gained a psychological understanding of myself and how this understanding translates into my relationship with myself, with others, and with the world. Exploring Earth as a complex composite of natural and human interactions and connections has given me an understanding of how things have come to be, like the origins of dualistic thinking, and what is involved in instituting change. In a shrinking world, the actions and decisions are they political, environmental or economic, of one person or country can have far-reaching effects on others in different parts of the world, as we are all interconnected. My studies with Viridis have provided me with the introspective insight and education I desire so that I may bring creative and constructive approaches to the challenges we face in the global community.
Laura, Doctor of Arts Program Class of 2018
Studying Ecopsychology at Viridis Graduate Institute has fostered in me new ways of seeing and being in the world – facilitating a lifetime's worth of work and study to coalesce. The depth and breadth of the programs, from the introductory courses to the Doctoral studies, have increased my capacity to recognize patterns and connections in me, the culture, and living systems (human and non-human). With this enhanced perspective, I hope to participate in life with greater awareness and capacity for making ethical choices.
Ann, Doctor of Arts Program Class of 2018
My experience at Viridis Graduate Institute has been profound. My life has been deeply enriched since I have been a part of Viridis. I am honored and thrilled to be in the first Doctoral program. Dr. Lori Pye is a trailblazer. I am impressed by her ideas, compassion for others, and passion for education. I am an artist and she understands this about me from all angles - as a whole person - for my creativity and as well as for my intellect. I followed my instincts to follow Dr. Pye on an incredible educational path she has paved for all of us.
Kristan, Doctor of Arts Program Class of 2018
It's hard for me to even express the high esteem in which I hold this program. I am extremely honored to be part of the first Doctoral cohort of this school. When I was researching doctoral programs, VGI's emphasis on blending ecology, imagination, and psychology was very appealing to me. Though I have gone through some deep changes since beginning the program, and the program has continued to evolve in response to student and institutional needs, I can look back at my very first conversation with Dr. Pye and still discern the seeds of my initial connection to the program. Across classes, the program does a fantastic job of inviting students to think broadly and engage deeply with concepts, and then ground that thought and feeling-reflection in real-world application. The class content and all faculty truly practice the Core Competencies of the school, and the five Ecopsychological Principles are embedded in all interactions. Students are fully "held" by the program, in terms of both support and accountability. The two in-person ReWilding experiences are a rich and wonderful accompaniment to the web-based classes. The natural settings are the perfect context for experiential learning and face-to-face connections with other students and instructors. They are powerful experiences with effects that last well beyond the 4 days. As I continue to work through the program material for my dissertation thesis project, I am validated in my own work and in my interactions with my classmates and instructors that I have found a place I belong. The connections I have made through VGI's programs actively reinforce the connections I make in my life "outside" of school — within myself and with others.
Andra, Doctor of Arts Program Class of 2018