VGI Grad on the Trail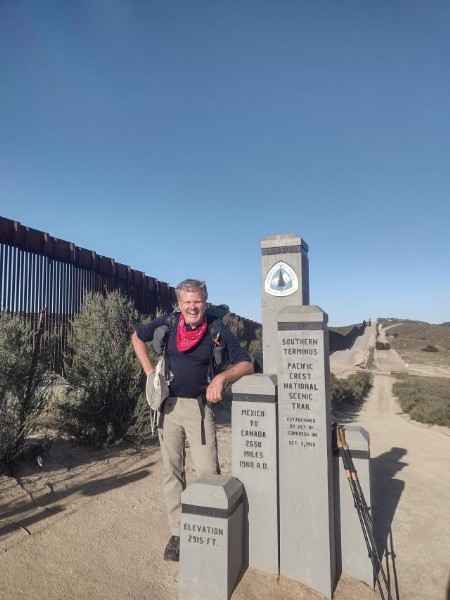 Dr. Michael Peterson, Viridis Grad
VGI Grad On The PCT Trail
I had the opportunity to hike the Pacific Crest Trail this year so I began at Campo, California on April 17.
I think I can say with certainty that I'm the first VGI graduate to do the trail.
I'm testing some of my ideas related to ecopsychology and talking with other hikers about their attitudes and ideas related to the environment and ecology.
I join a surprisingly large number of 60+-year-old hikers who have set aside five months to journey on the Pacific Crest Trail for 2,650 miles from Campo, California (on the border of Mexico) to Manning, Canada. (You can find out more information about the trail here: pcta.org.)
I am doing this hike to live confidently among the best of the many silences, to learn to saunter (the joy of non-hurried, carefree walking), and to live closer to the present.
I also had the idea that this is a great way to support Viridis Graduate Institute!
I will donate one dollar - up to $2650 - the length of the trail, for every mile I hike.
I want to match this with fellow hikers and those from the VGI community!
Match My Mile
The many different stories out on the PCT make one appreciate the diverse reasons why so many people take to the trail every year (8,000 + in 2021).
From walking through a mid-life crisis to mourning loss, heartbreak, or making a huge transition in life - humans bring their trials to the trail.
Michael will be posting updates along the trail.
Match my miles in whatever amount you want - 1 cent ($26.50), 2 cents ($53), 5 cents ($132.50), 10 cents ($265), 25 cents ($662.50), or a dollar ($2650) for every mile I hike.
Send us your pledge commitment (viridis@viridis.edu), when Michael's hike is complete, we'll send you an email reminder.
Notes from the Trail 5/27/21
Hi Friends!
I am at mile 702-ish, Kennedy Meadows South. This means I've completed the infamous desert section and that I'm more than a quarter finished. I'll stay here a few days until I figure how I want to do the Sierra. Water is no longer an issue but for resupply there are no good options. One of the old salts (Legend) recommends going out (meaning off trail) frequently in order to carry less.
With the elevation (mostly 10,000+) frequent resupply makes for happier hikers, he says. I may follow his plan which would mean going out to Lone Pine after four days and then out again at Bishop. Both require long side hikes and hitches to town.
I've changed out my shoe/sock system at an outfitter here and already my feet are happier.
Frequently now, and with increasing intensity and duration, I experience non-hiking. These are the moments, or hours, I really don't know, when my feet have nothing to say, my legs are quick and powerful, my body is relaxed, my stomach is quiet, my mind refreshingly empty, and my pack weighs nothing.
If I am there at all, and again I do not know, I float along the path, a breath among many others, seemingly untethered to the earth and yet never more part of it. This, I am thinking, is the mystery of long distance hiking. It's taken a month to lay aside the "normal" concerns of life, worries about water and equipment and food and navigation and family and home (or lack of one!) and the endless niggling of the psyche. It is simply wonderful. Nourishing. Rewarding. It fills me with anticipation for more. I tried to share this with a twenty-something and he simply couldn't relate. I think he thought I was on shrooms. Kids...
On the back of the Backpacker's Pantry meals (good food) is a quote from Thoreau: "Live in the seasons as they pass: breathe the air, drink the drink, taste the fruit, and resign yourself to the influence of the earth." I have yet to find a better way to describe how we are best in relation to the earth than that--"resign yourself to the influence of the earth." Not even intentional attention, just resignation.
I'm sure that many hikers are discovering that you can't out-hike life's puzzles, dark voices, bad memories, sadnesses, and the endless machinations of the psyche. But the trail does provide alternative strategies, extra resources. It gives time and space to hold these things.
As Virginia Woolf wrote, "The compensation of growing old [is] that the passions remain as strong as ever, but one has gained — at last! — the power which adds the supreme flavour to existence, — the power of taking hold of experience, of turning it around, slowly, in the light."
The trail is all that. The power to take hold of experience and turn it around slowly in ample light.
It seems the snow is essentially gone in the Sierra, at least from a hiker's perspective. Great for us, not good for California. I'm at least two weeks ahead of a normal PCT hiking year.
The lack of snow will make it more so.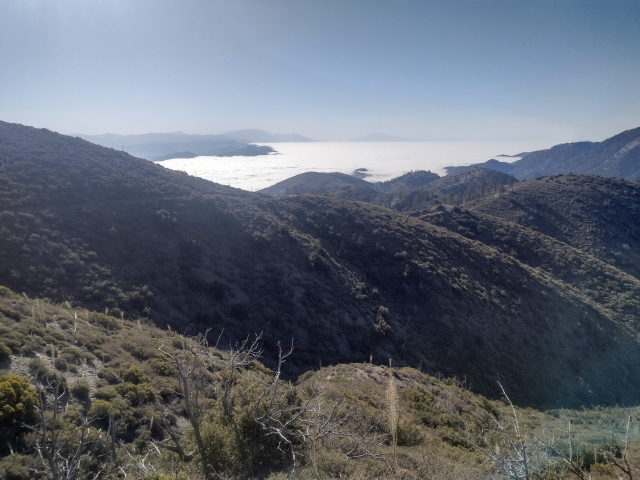 San Bernardino and the Coachella Valleys filled with clouds
Notes from the Trail 6/14/21
Dear friends,
I have completed the longest food carry and longest time in the backcountry (10 days) that will be needed on the PCT and I'm now at trail mile 906, where I've gone out for resupply at Mammoth. The tramily did run out of food early (we all shared what we had) and we had to run out to Vermillion Valley Resort (resort being loosely used). It's basically a rustic backcountry money pit for hungry hikers and it's ten miles off trail, each way, but we were shaking-with-hunger desperate. I thought I climbed out of Bishop/Kearsarge Pass heavy with food but I met a man from the Czech Republic who packed in 3 weeks of food at 60 pounds. VVR, run by Jim, who describes himself as a mean son-of-a-bitch (he isn't), said one hiker spent over $800. I got away at $140.
Let me introduce this section's trail family (Bishop to Mammoth):
Kristi is a professor and chairperson of the Sociology department at a university on the east coast. She is also the author of the national award winning book "Walking on the Wild Side" (Rutgers) which is about the Appalachian trail. She is now working on one about trail angels on the PCT.
Adrianne is a nurse from Tennessee. She and Kristi are cancer survivors and were friends before the trail. Adrianne's cancer has returned twice so she lives trying to pack in as much into life as possible. She's 41. Her mother died at 43 with the same gene mutation.
Cowboy was a jailer in Lodi for over 30 years and a farrier. He's the color and life of our tramily.
Faisal was high up in the Twitter food chain until five years ago when he left corporate life and became a wanderer.
Lulu is a nurse practitioner from Hawaii.
How about a trailmance story? Cowboy (63) and Lulu (50) began sparking. Cowboy, recently dumped by his girlfriend of eight years, just wanted to get laid. Lulu, now on her eighth trail fling (in nine weeks), decided she wanted something long term (you know, like three or four days). Neither communicated their wants/needs to the other. They shacked up in one tent. Lulu says they were intimate. All Cowboy knows is that he didn't get laid so after two days he moved back to his own tent. They were both angry. Lulu spent the next week telling everyone Cowboy was a jerk and he snarled at her whenever she was near.
Who needs cable when you've got Pacific Crest Trail drama?
The trail through the Sierra is controlled by the passes. In theory, it's best to climb a pass in the morning and descend into the next valley by afternoon, camp there and wait for morning to attempt the next pass. This is snow related thinking--frozen in the mornings, slushy in the afternoons. Since there isn't any snow to speak of this year it hasn't mattered how we tackle the passes. We've been over these:
Forester (the highest)
(Off trail Kearsarge x2 to and from Bishop)
Glen
Pinchot
Mather
Muir (Eight of us stayed the night in the Muir hut--I estimate the temp at 0°F or below. Someone went outside no longer than 30 seconds with a cup of water and it froze. I had to sleep below a cloud of pot smoke but on the upside Peter, stoner-in-chief ("Shrooms anyone? Peyote?"), had a great play list and an external speaker that he put on the mantel next to John Muir's brass head)
Selden (my favorite so far though Muir is the second)
(Off trail Bear Creek and Goodale passes to and from VVR)
Duck
Most passes require a climb and descent of 2000-3500 feet. This is net elevation and doesn't reflect how many times one might have to climb those feet. Think up and down and up and down. The Muir approach, for example, climbed for 10 miles like this and descended for 19.5.
I've searched for language to describe what I've seen and experienced. I simply can't find any. It is a great irony that in wandering through one of the most geologically violent places on earth I can experience such peace and joy and rootedness. Maria Popova describes it well:
"One of the strangest paradoxes of life is that our most intimate knowledge of things often comes from their opposites; that presence is most sharply contoured by the negative space of absence; that busyness reveals the value of stillness, loss the magnitude of love. Contrasts are how we orient ourselves and calibrate our feelings, the height of our fears fathoming the depth of our hopes. Thoreau knew this when one cold winter day he filled a diary page with his recipe for kindling inner warmth: "Take long walks in stormy weather or through deep snows in the fields and woods, if you would keep your spirits up. Deal with brute nature. Be cold and hungry and weary."
Opposites don't always work smoothly. Cowboy was alone for two days and when he stumbled into my camp he cried. He had nearly quit the trail from loneliness. He was desperate for human contact.
There has been little snow on the ground, the river crossings have been low (and thankfully the most dangerous are over with) and we've had no precipitation since mile 152. This year may go down as the easiest PCT hike ever, though it ain't over yet...
There is the ongoing tension between miles and food and wanting to stay. I've seen places of such beauty I could stay forever. But the miles don't hike themselves.
I haven't heard from my feet in many weeks. The new shoes out of Kennedy Meadows have worked well (as in comfortable) but started falling apart at mile 80 (Altra Timp 3). I hope they make it to mile 1150 which timewise is half the trail and where I'll take a few days off and shop for something better.
I may have mentioned that most hikers go full-ape--meaning no haircuts, no shaving, no deodorant (men and women). We cover this with the saying "Embrace the suck." Well, this ape is getting a shave and a cut. Enough is enough. As for deodorant, it's simply a lost cause. It can't keep up. Going au naturale is expressed as Fragrance of the Earth. We are very earthy. And this, in addition to dirty and torn equipment and filthy clothes, is the mark of the through-hiker. We can't smell each other but I'm sure others can. We instantly know a section hiker by smell--soapy, shampooy, and much too clean looking. I linger as long as possible breathing in the scent of a section hiker when they pass.
The attached photo of me as "The Wanderer" looks over Kings Canyon, 2000' below and extending six miles to the west. At the far end you turn north, to the right, and begin the 10 mile ascent to Muir pass.
I've also attached a photo of Cowboy in Muir hut (the effects of the trailmance debacle having worn off).
Michael